Innocare Antibacterial shampoo caps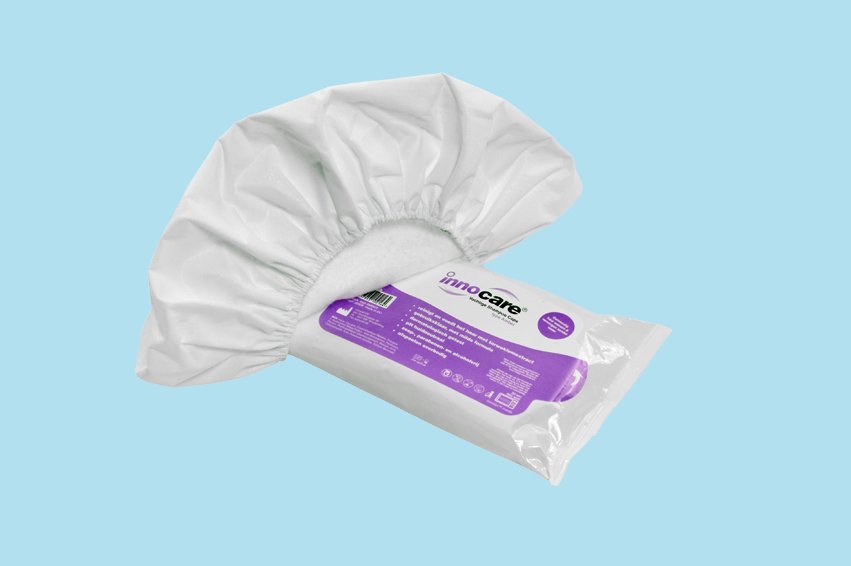 Antibacterial hair washing lotion, type Onyx Decontamin Quick and easy hygienic washing of the hair and cleaning of the scalp without using water and shampoo.
The lotion with 2% chlorhexidine digluconate (CHG), is dermatologically confirmed and pH-skin neutral. Formulated with nourishing ingredients such as glycerin, aloe vera and vitamin E plus CHG for effective germicidal effect in accordance with EN 13727 & EN 1276 (bacterial incl. MRSA/VRE multi-resistant pathogens), EN 13624 (yeast killer), EN 1650 (fungicide), EN 14476 (virus killer incl. SARS-CoV-2).
Heatable in microwave or special Innocare® warmer
The CHG lotion is self-drying and does not need to be rinsed out. It reduces harmful bacteria in the hair and scalp and eliminates a large number of micro-organisms that can cause infections.
The active ingredient ensures long-lasting decolonisation. This product is a PT1 biocide, requires registration and is currently only available in Belgium and Germany.
Simple use, simply place the cap on the head and massage for 2 to 3 minutes. Then remove the cap and towel dry the hair. Comb it as usual and style it.

How to use?
The lotion-soaked wash gloves are ready to use at ambient temperature or can be warmed up to feel pleasantly warm. The patient is then washed according to the washing schedule. The wash gloves can be used on both sides. Rinsing is not necessary and the lotion will dry automatically. After washing, the flannels can be disposed of in the waste bin. With Innocare® you combine 4 steps in 1 operation: washing, rinsing, drying and skin care.
| | | |
| --- | --- | --- |
| REF | 20011 | |
| MATL/COLOR/GSM | Lamisoft™, white, 110 gsm, Ø 30 cm | |
| CARTON | 24x1 pcs | |
| CTN/PAL | 70 | |
| EAN | 8717953102188 | |
| CTN/SIZE | 39 x 23 x 23 cm | |
| KG/CTN | 3,5 kg | |
Private label shampoo caps
Moist hair wash caps are available from a circulation of approx. 8,400 packages (pieces) when using existing model caps and lotion recipes. Initial delivery time approx. 6 - 8 working weeks after final approval of all designs/artworks.